Before You Arrive
Welcome to UNM, and know that even in the midst of the COVID pandemic, we're here to help. Contact our HR Service Center for general assistance by phone at 505-277-MyHR (6947), email: HRfiles@unm.edu or fax: 505-277-2321.  Directions to the HR Service Center and other HR departments
Complete the following as soon as possible but NO later than three (3) business days prior to your start date:
E-Sign your Offer Letter and complete online Onboarding tasks
You will receive an email notification with your offer letter that will need to be signed electronically. An additional email notification will be sent of online Onboarding tasks to complete:
Employee Demographics Form
Employee Acknowledgements
Checklist and Infographic that will guide you through the New Employee Experience webpage as well as "Your Lobo Journey" portion.
Complete Other Forms
Your I-9 and NMERB-Employee Data Form should be completed per the Onboarding instructions that were sent via the Onboarding tasks email. The NMERB-Beneficiary Designation Form should be completed and sent to the address provided on the form.
Your UNM Benefits
Review the Benefits webpage to understand the options available to you and the deadlines and procedures for enrolling in your benefits.  You have 60 calendar days from your eligibility date to enroll in your benefits.
Visit the Eligibility and Enrollment webpages on the HR website for details and benefits enrollment forms.
Contact Benefits & Employee Wellness at hrbenefits@unm.edu with questions. 
Welcome
Welcome to the University of New Mexico, where each of us defines all of us. We are excited that you are here and ready to contribute in a meaningful way to the mission and vision of New Mexico's flagship institution of higher learning, and one of the country's top research universities.
The following will help you kick off your career at UNM as smoothly as possible, addressing a number of logistics that will help you embark on your new position. Be sure to check with your supervisor for any additional requirements.
Please be aware that while the University's precautions regarding COVID-19 are in place, some departmental staff are working remotely. Prior to making a trip to main campus, Health Science Center, and branch campuses, we recommend you contact departments by email for their current hours of operation and procedures. For up-to-date information, visit the UNM Coronavirus (COVID-19) website and Coronavirus Guidance for Employees.
For answers to frequently asked questions, check our New Employee Toolkit.
Still have questions? Contact the UNM Employee & Organizational Development Department at eod@unm.edu, or 505.277.1555.
Getting Started
Your first step is to go to newemployee.unm.edu and click on "Your Lobo Journey" to watch the new employee presentation.
Next, navigate through the bar located on the New Employee Experience webpage and review sections one through six. Print this handy checklist to keep you on track!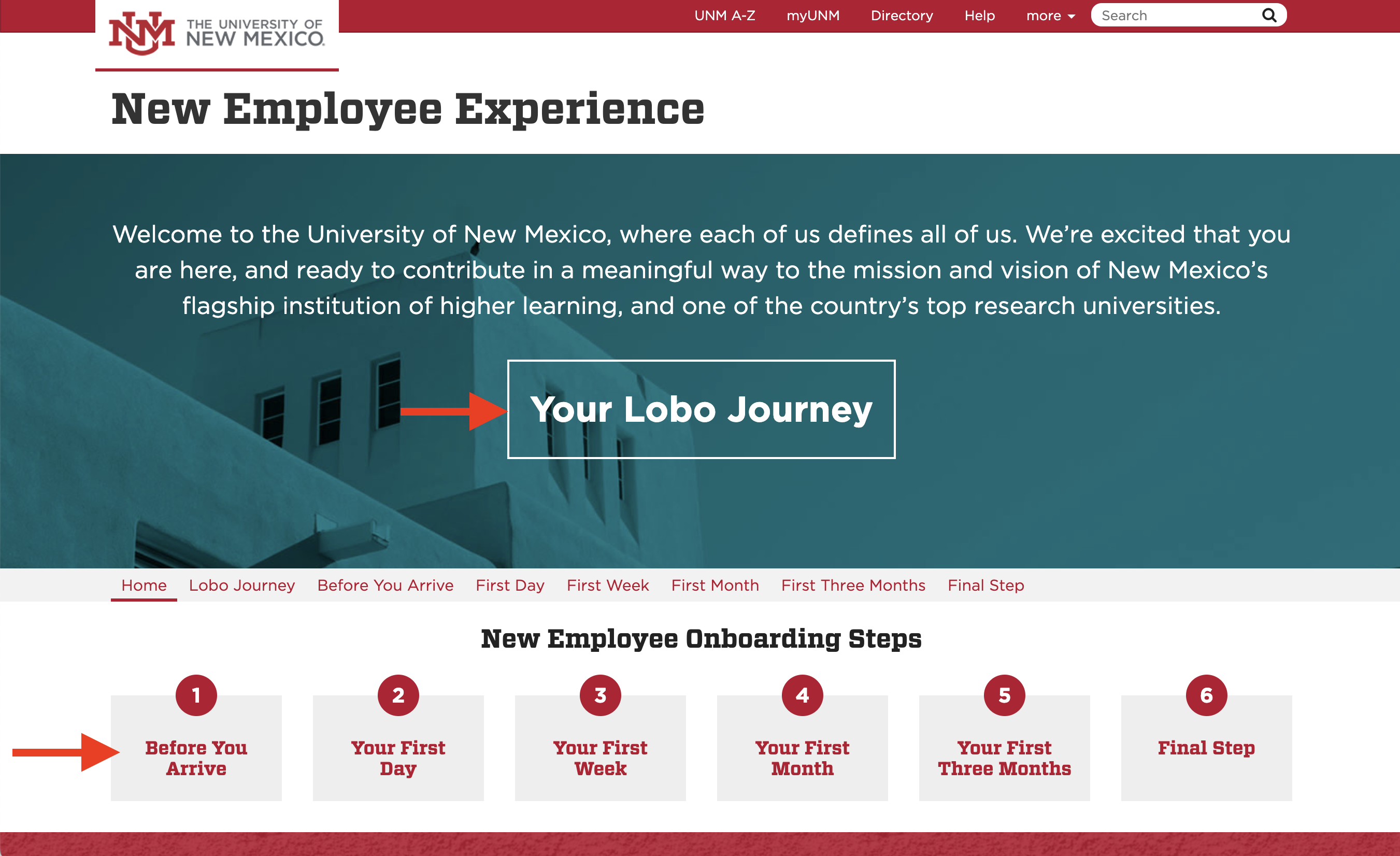 Creating a NetID
The UNM NetlD is a login ID that is used to access a variety of systems on campus including LoboMail, myUNM, and Learning Central, and is an important first step as an employee. To create your NetID, visit the NetID page.
.The University uses multi-factor authentication (MFA) called Azure to verify your identity with your NetID. For general information on Azure and how it works, visit the Fast Info page.
View our step-by-step instructions on how to create your NetID.
New Employee Online Information Session
In addition to "Your Lobo Journey", you are required to attend the virtual New Employee Information Session that occurs every Monday morning from 8:30 a.m. to 10:00 a.m. If the Monday falls on a holiday, the session will be held on the Tuesday after. Go to this Zoom meeting link to attend https://unm.zoom.us/j/94004377327 (Password: UNMNEE).
Every Monday from 8:30 a.m. – 10:00 a.m.

 

Time

 

Topic

Presented by:

8:00 - 8:30 a.m.

Zoom Session Opens

EOD

8:30 - 8:40 a.m.

Welcome/Agenda Review

EOD

8:40 - 8:55 a.m.

Questions/Issues Regarding NEE Website and "Your Lobo Journey"

EOD

8:55 - 9:20 a.m.

Departmental Introductions

and Q & A

EOD

HR Client Services

HR Benefits & Employee Wellness

UNM CARS

UNM Payroll

Parking & Transportation Services (PATS)

Custodian of Public Records Office (IPRA)

Export Control

9:20 - 9:25 a.m.

Wrap-Up/Final Questions

EOD

9:25 – 9:30 a.m.

Online Survey

EOD/New Employees

10:00 a.m.

Zoom Session Ends

EOD
Additional Information
UNM Holiday Schedule
For information on UNM Holidays, including the Campus Calendar, Payroll Schedule, and UNM Events Calendar, visit the HR Calendars Page.
For more information regarding UNM Holidays, see the University Administrative Policy 3405.
UNM Payroll Schedule
For information on payroll timekeeping and approval as well as pay dates for exempt and non-exempt employees visit the Payroll Schedule webpage.
Union Information
Visit the Labor & Employee Relations links below to access information on your specific union representatives and contract agreements:
UNM Campus Safety
Your safety and security are of prime concern at the University of New Mexico.
UNM is committed to offering services, information, resources and tools to offer a safe campus to all students, staff, faculty, and visitors. We also encourage individuals to contribute to campus safety and preparedness by becoming informed, staying alert, and using good judgment. Visit the UNM Campus Safety Website for more information. 
UNM Campus Map
For maps of main, north, south, and branch campuses, visit the UNM Campus Maps page.